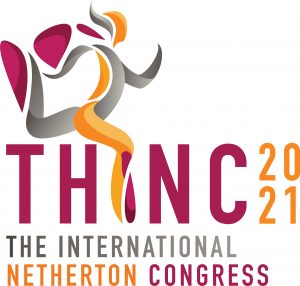 Save the date!
Second International Netherton Congress (THINC)
Online, November Thursday 18, 3 – 7 PM CET and November Friday 19, 2021 3 –  6 PM,  a two days congress,
We are proud to announce the second International Netherton Congress (THINC), that will take place online on November 18 and 19 2021,
Why this CARE4NETHERTON congress?
Netherton Syndrome is a very rare and severe condition for which there is no cure or proper treatment yet. It is time for a change! Last year, we met almost one hundred people online, all suffering from or interested in Netherton Syndrom. We started in making  the difference together with patients, their families and involved professionals as one big group of experts. During the second congress we want to work on a guideline for Netherton syndrome and will define outcome measures for care and research in Netherton syndrome and we call this: CARE4NETHERTON
Join us!
The congress will be hosted by Erasmus MC University Medical Center Rotterdam, The Netherlands, which is part of the European Reference Network-SKIN. You're invited to join online in Zoom, To organize the congress we are asking a small fee from participants: Patients/parents: € 15,- / Medical students: € 50,- / Professionals: € 150,-/ Companies € 1500,-  . If you cannot afford this fee, it is possible to join the congress free of charge. A registration link will be available on our website soon and will be sent to you in a separate email.
Program at a glance:
Care4Netherton is the project to improve the care for people with netherton syndrome, by defining outcome measures to evaluate care and therapy and by optimizing the patientjourney
The importance of outcomes, presented by patient representative Karin Veldman and researcher Dr. Jolien van der Geugten
Saskia van Baarle is mother of 8-year old Olivia, Olivia has Netherton Syndrome. Saskia participated in a movie about her journey with Olivia
Representing Netherton Syndrome in European Reference Network Skin, Karin wrote the Netherton Syndrome Patient Journey
The kick-off of an international personal health record for Netherton syndrome
Researchers Christine Bodemer, Virgil Dalm, Suzanne Pasmans, Anouk Nouwen and Karin Veldman and other specialists will answer your questions about Netherton Syndrome. Please let us know in advance.
On day two we will plenary discuss the finalizing steps for outcome measures
Of course, there will be time for questions and answers!
For more information and news, visit our website: https://nethertonnetwork.com/
Register via the weblink that you will receive shortly and that will also be available on the website.
Do you want to help us organize the next Netherton live meeting in 2022? Start your own fundraising activity!
To raise money Suzanne Pasmans did a 1/3 triathlon Brouwersdam90 September 25, and is going to run the marathon of New York November 7. Look at https://nethertonnetwork.com/ and find out how you can raise funds for our network.
We are looking forward to meeting you on Thursday November 18 and Friday November 19, 2021!
The Organizing Committee of the 1st International Netherton Congress.
Christine Bodemer, Karin Veldman, Suzanne Pasmans